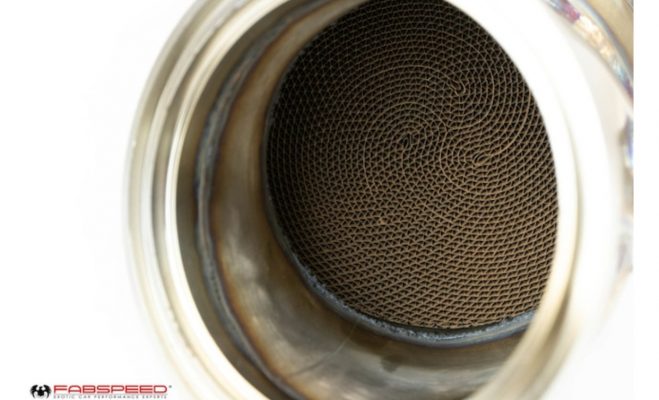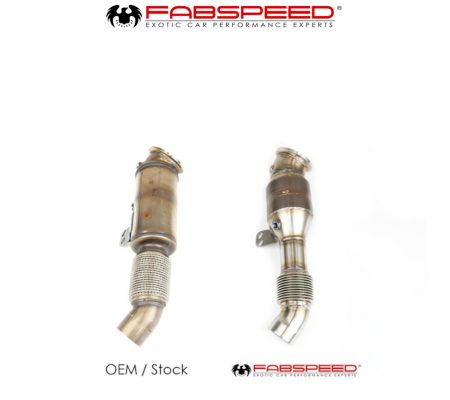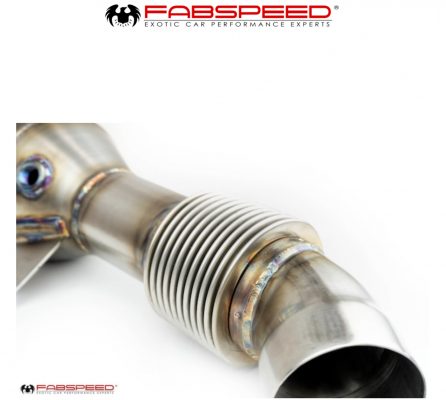 The 2020 Supra 3.0 liter 6 cylinder is Toyota's anticipated return to the sports car relm. The Supra is a true enthusiast car and it dramatically benefits from a Fabspeed Motorsport Sport Cat Downpipe. You'll appreciate the more aggressive exhaust note and significant horsepower increase.
These downpipes feature German made HJS 200 cell EURO 6 EC certified compliant trimetallic catalytic converters. We use 4 in piping from the engine side to the cat, and 3 in tubing from the cat to the rest of the exhaust. These are the largest and highest flowing catalytic converters you can fit on the 2020+ Supra. Larger catalytic converters are better because they allow for more exhaust flow and the increased catalysts surface area allows for better exhaust gas filtering which means emissions compliance and will NOT trigger a check engine light. Our Sport Cat Downpipes are a direct bolt-on replacement for the factory Supra catalytic converter.
When we looked at the factory 12" long 700 cell ceramic core cats we immediately found an opportunity for improvement. The OEM Cats restrict exhaust CFM flow, limit sound and worst of all, rob performance. Replacing the OEM cats for a set of Fabspeed Sport Catalytic converter will net you improved performance with absolutely zero fear of a check engine light.
Why We Choose HJS Catalytic Converters:
HJS German imported catalytic substrate cores are made by EMITEC utilizing the highest grade stainless steel materials and Tri-metallic precious metal wash coats for high performance street and racing competition usage. HJS German 200 cell Trimetallic Euro 6 HE catalytic converters give the highest performance gains, improved sports car sound and maximum durability. Other brands of catalytic converters immediately deteriorate and fail over time as is typical. Some other companies and brands DO NOT even offer catalytic converters as they know that their catalytic converters will NOT work even when 100% brand new as they have no reliable quality solutions. The HJS German imported HD catalytic converters flow up to 90-92% of a straight pipe in most applications. The benefit is that you get the "straight pipe sound" while still being able to provide enough emissions scrubbing to prevent a check engine light. Typically no P420 and no P430 codes and your car smells clean with no need for a tune to pass emissions testing. It's a win win solution for a sportier sound, more power, and a cleaner running car which prevents pollution. Not all HJS catalytic converters are the same. Size matters and directly correlated to power, sound, and durability. Fabspeed utilizes the LARGEST possible HJS Catalytic converter for maximum power and sports car sound.  No short cuts ever.
FEATURES:
Simple bolt-on installation. Instructions included below
The largest HJS tri-metallic catalytic converter  that will fit in the factory location
This HJS catalytic converter will supports 1200HP+
Designed to fit Left hand drive and Right hand drive cars worldwide
Significant performance gains across the RPM band. Estimated +35HP gained over the factory unit
Even more power can be unleashed with a ECU tune. Please inquire.
No tune required
Superior quality all German and USA components built in house by hand
TIG welded by our expert welders
T304 stainless steel construction
Fabspeed performance products are backed by Fabspeed's Lifetime Warranty
WARRANTY / INSTALLATION GUIDE