Description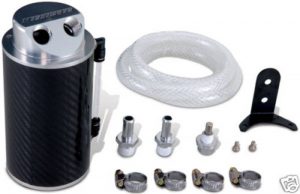 This product carrys a LIFETIME WARRANTY!!!
THIS IS A UNIVERSAL FIT!!!!!!!!!!
Im a DEALER for MISHIMOTO ucts and carry there full line for all make and Models including Rads, Hoses, Intercoolers
Mishimoto Carbon Fiber Oil Catch Can MMOCC-CF *NEW*
Part Number: MMOCC-CF
Color: Carbon Fiber
Mishimoto has developed a carbon fiber oil catch can to make sure you're getting the most out of your performance parts.
Over time harmful oil will build up inside the turbocharger, intake manifold, intercooler and piping. A Mishimoto Carbon Fiber Oil Catch Can will prevent this from happening while its sleek carbon fiber exterior will add a touch of style to your engine bay.
An oil catch can serves other important purposes as well. It will prevent oil from getting into pressured turbo plumbing, which can lead to couplers coming off under boost. Oil vapors can get into the intake system which will lower combustion temperatures and reduce overall efficiency. A Mishimoto Carbon Fiber Oil Catch Can will solve all these problems and give you the added security knowing that your performance parts are safe from harmful oil.
Contents:
- Carbon Fiber Oil Catch Can
- 4 O-Ring Clamps
- Mounting Bracket and Hardware
- Hoses and Hardware
Measurements:
- Diameter - 3"
- Can Height - 5"
- Overall Height - 6"
- Inlet/Outlet - 3.8"