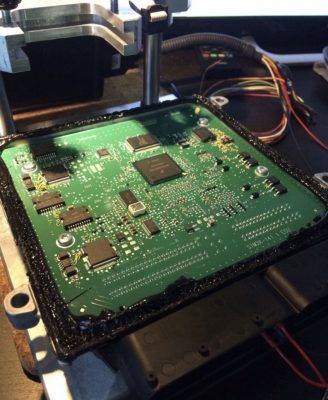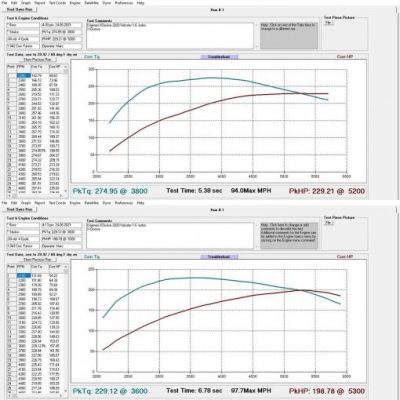 Dyno is from Elantra Sport Below above Vt2 dyno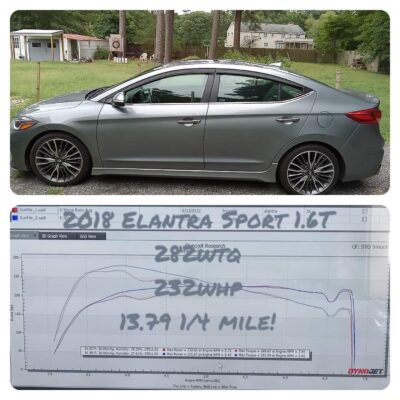 Uniq Performance is Proud to Xclusive tunes for the 2019+ Veloster Turbo

Approx Gains Approx Gains 65 wtq and 36 whp on axleback only and FBO more potential

230WHP and 275 WTQ  with just an axleback exhaust 
PLEASE NOTE: An upgraded Blow off valve ,Oil catch Can and upgraded 1 step colder plugs are recommended.
Shipping price is at customers expense to us and back to you.Turn around time is 2 days before is ships back to you..

MUST USE MINIMUM 91 octane
Disclaimer
UNIQ PERFORMANCE assumes no responsibility for any damage on the vehicle.
We offer 3 ways to accommodate your needs for Tuning.Please select these options on the dropdown menu.
1) Offer local tuning in House in Milton,Ontario.Which means no downtime and tuned on the spot by appointment only.Payment option is ONLY  by email money transfer.Credit card or PAYPAL will NOT be accepted.
2) Sending in your ECU by mail
3) Tool Rental program with a deposit of $250CAD which is then refunded once we receive the cable and software.The deposit would have to be paid by (email money transfer ONLY) and then refunded in the same format once it has been returned in our possession.
All you need on your end is a laptop with Windows operating system. Once you receive the cable and software our tuner will be in contact with you and will guide you through the process. Typically only takes around 30 minutes.
PLEASE NOTE: An upgraded Blow off valve ,Oil catch Can and upgraded 1 step colder plugs are recommended.
MUST USE MINIMUM 91 octane
Disclaimer
UNIQ PERFORMANCE assumes no responsibility for any damage on the vehicle.
No need to send in your ECU which means no downtime at all. We send you the software and the cable. All you need on your end is a laptop with Windows operating system. Once you receive the cable and software our tuner will be in contact with you and will guide you through the process. Typically only takes around 30 minutes.
Once we receive the cable and software back, you will receive a $250 CAD refund
Price Includes Shipping back to the customers door ONLY.Price does NOT include to ship to us and is customers responsibility.Please ship back with SIGNITURE and Insurance
Get maximum power gains without sacrificing drivability . Xclusive offers Tune maps for stock cars, or Bolt on modifications including Intake,Catback,Downpipe and midpipes with ONLY Stock Turbo…
BENEFITS OF ECU REMAPPING/PROGRAMMING
ECU programming will not only improve the engines power and torque figures it will also sharpen the throttle response and widen the power-band. This will make the power delivery a lot more linear. Frequently, the vehicles power output is restricted by the manufacturer, the million dollar question is why? As a driving enthusiast, you do not need or want such restrictions placed upon your vehicles. With a ECU remap from Xclusive Tuning you can unleash the hidden power and torque locked away within your engine management system.
WHY Xclusive Motorsports??
As a result of the power and torque boosts, acceleration time is also far better. However, there is another reason why the acceleration is improved. Advancing the ignition means that the lag in the throttle response is greatly diminished, which does wonders for the driving feel. The improvement is most obvious when you drive at low speeds, or when you suddenly accelerate after breaking
Lower fuel consumption
Engineers from Xclusive Motorsports have paid much attention to a number of parameters in the ECU software which are directly related to fuel efficiency. Depending on your driving style, but also the quality of fuel, noticeably better fuel economy can be achieved.
Xclusive Motorsports safety features
In order to protect your parts, our software is smart and adaptive. At low atmospheric pressures it automatically reduces the boost demand to protect your turbo system. This happens, for example, when you are driving in the mountains. If the temperatures are high, the demand for injection and air load is reduced in order to alleviate the stress. Moreover, if the fuel quality is bad, in order to prevent detonations the ignition gets automatically delayed. None of the parts ever gets stressed beyond the limits that the manufacturer has established as safe.
Smooth ride
You are tuning your car not only to improve acceleration and top speed, but to enhance the complete driving feel and we are here to make this happen for you. Many tuners will tune the car at WOT – Wide Open Throttle – meaning that the adjustments are made at 100% throttle. However, vast majority of time you will not be driving at full throttle, so you will also not see the benefits of tuning. This is why we tune your car in a way that you can feel more power and torque at lower throttle positions and rpm. The "Wow" effect will therefore be much better with our tuning, as you will feel the improvements all the time and not only when you push the pedal to the metal
Xclusive Motorsports ECU Map Driver Explorer
Xclusive Motorsports's ECU Map Driver Explorer provides full access to each table and map, including all of their variables and possible modifications. This allows us to surpass the software limitations that most other tuners are limited by. Our Map Driver Explorer make it possible for us to bring the software optimizations to a higher level.
Emission standards are maintained
Our organization is TÜV ISO:9001-certified; all our work is accompanied by TÜV certification documentation. The CO2 and consumption levels in the ECE-cycle will remain the same, with a possibility of minimal deviations, but certainly within norms. As we develop each performance chip, we test and control emission values. We adjust the engine in such a way that the CO2 emission and fuel consumption rates remain at the same level or are improved. An ECE cycle is simulated on our dyno bench with emission analyses. Making sure your car is compliant with government regulations can save you money at tax time. Tuning your car with Xclusive Motorsports will guarantee you more driving pleasure!
How do we reach our performance?
The operation of an internal combustion engine is dependent on three factors: fuel, oxygen, and ignition. The engine management system determines the relationships between these factors and sets up a number of different filters and limiters. Our adjustments will make the combustion process better, so your engine operates more efficiently. We do not just add a few percent here and there, but each and every one of our modifications is carefully calculated, adjusted and its effects are further monitored. Our modifications are at the Original Equipment Manufacturer (OEM) level and follow the architecture of the manufacturer. After Xclusive Motorsports your engine will have more horsepower, better throttle response and more torquewhich you will be able to tell the moment you leave our workshop. More torque means higher efficiency and smoother ride in daily traffic, whcih can lead to lower fuel consumption, while better
throttle response gives an amazing drive feel and more confidence during overtakes and acceleration.
Many people who consider themselves tuners simply add a few percent to increase turbocharger pressure and fuel injection, or download some kind of all-fit software from the internet. However, tuning files need to be custom made for every engine and dyno tested. The fact that your car has more power and that you can feel the boost does not mean that your engine is optimally tuned. As you can expect, these "blind" adjustments mostly collide with the manufacturer's settings and they can be sometimes inefficient, but more often harmful to the engine. Data Logging while customizing the software is necessary in order to measure the air/fuel ratio, turbo pressure and temperatures. The data log is necessary to check whether these values or are safely adjusted.
Turbo
Turbo system is subject to wear and this is the reason why it should not be adjusted blindly. We measure the requested and actually delivered boost and we adjust it to complement the other aspects of the engine's operation. The boost pressure is often adjusted to unnecessarily high values, especially in diesel engines. This has a higher and unnecessary wear and tear as a result.
Intake Air Temperature
During the data logging, we measure the air inlet temperature. We do this to ensure that our modification is safe. It also happens sometimes that aftermarket intake air filter systems are mounted in the wrong place and therefore hot air comes through the intake causing dramatic performance drops and other problems due to the fact that temperatures in the engine are too high.
Exhaust Gas Temperature
In addition to measuring the air inlet temperature, we also measure the exhaust gas temperature. A mechanical problem or a mistake in the ECU software modification can cause excessive temperatures which can cause serious damage to turbo and exhaust systems. This is why measurements of the temperature of the exhaust gas are essential.
Oil / Fuel / Coolant temperature
During data logging we also measure the temperature of the oil, fuel and coolant. Just like with the gases' temperatures measurements, we do this to make sure that our modifications are safe for your car.