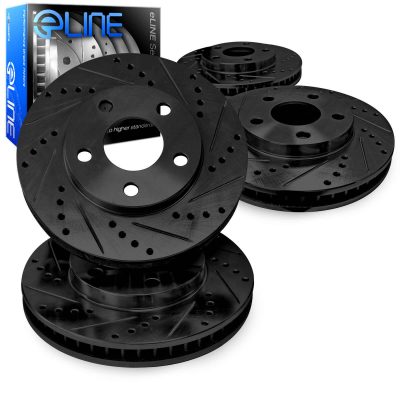 F: 633-03020L & 633-03020R   R: 633-03037L & 633-03037R
Package includes Front and Rear Rotors (DRILLED AND SLOTTED) Black ZINC Coated
Zinc Plated for corrosion protection.
All of our eLINE Series Brake Rotors, excluding our blank pattern rotors, come with a special zinc plating designed to protect from corrosion. Though some of this corrosion protection will inevitably wear off through use, the rest of the rotor will remain protected. This leads to better appearance, longer life, and overall improved maintenance and replacement costs. Our eLINE Series Brake Rotors are available in silver, black, and gold. for EXTRA CHARGE!!
Make it a complete eLINE Series Brake Kit
Add brake pads to your
eLINE Series brake rotors
and make it a complete brake kit. Get the best in performance and value all in one box!
Depending on your needs, you can order front kits, rear kits, or both.
eLINE Series brake rotors can be paired with any of our R1 brake pads. If you don't know which pad to choose just select our recommended selection. Our recommended selection is for each vehicle type, offering the best performance, and the lowest noise.
Ready to be installed right of the box with no modifications required