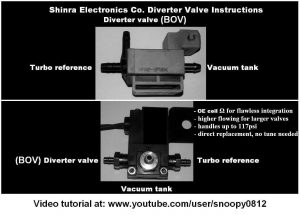 SECo Plug-n-play Blow-Off Valve Solenoid
Give your valve the solenoid it deserves with higher flow than stock, replaceable 1/8th NPT barb fittings (4mm hose standard) and 100% direct replacement for any PA6-GF30 solenoid.
Retain your factory safety functions with heavier valves that would normally have to be diverted to manifold or make your super fast valves even crisper with a fast acting solenoid.
Advantages:
-Lasts longer than OEM
-Higher Heat Tolerance
-HigherPressure Threshold
-Significantly faster Operation
-Lets you run Heavier BOVs on the OE System to maintain safeties,like HKS or TurboXS RFL
Compatible with but not exclusive to:
Hyundai:
– Genesis Coupe 2.0T, all model years
– Sonata 2.0T, 2011+
– Santa Fe Sport 2.0T, 2013+
– Veloster Turbo 1.6T, 2012+
Kia:
– Forte (Koup or 5-door) 1.6T, 2014+
– Optima 2.0T, 2011+
SNOOPY APPROVED PRODUCT!!
Please allow 2-3 weeks for Delievery