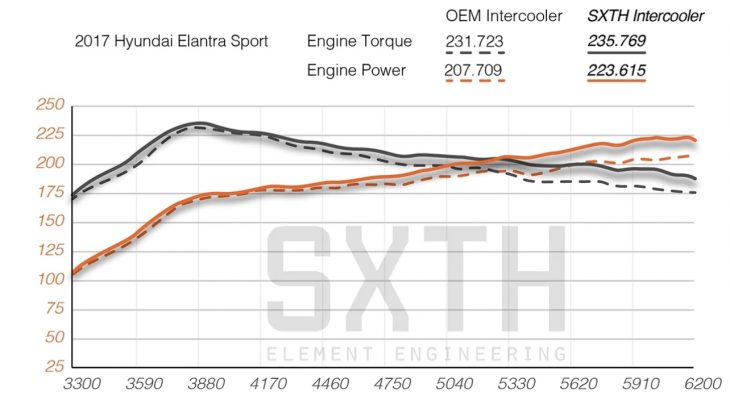 SKU:09-01-103
PLEASE NOTE: BOV NOT INCLUDED SOLD SEPERATE. Comes WITH HOT PIPE

---
Vehicle Fitment if ApplicableHyundai Elantra:Sport 2017+Hyundai Elantra:GT Sport 2018+Hyundai Elantra:GT N-LineHyundai Veloster:Turbo 2019+Kia Forte:GT 2020+
A lot of R&D has gone into this kit and the results show.
An additional 16 wheel horsepower (peak gain) and 4 wheel torque (peak) was gained versus the OEM intercooler on our tuned Elantra Sport. We swapped intercoolers right there on the dyno!
Our kit is 100% bolt on with ZERO modification to the car required.
Looking at the dyno graph, you can see how the OEM intercooler struggles to breathe as RPMs climb. Although peak torque gain was only 4 lb-ft, as the rpms climb torque gains are 16+ where peak power gain is!
Purchasing this product will eliminate the need for the Resonator Delete Pipe. The option to add the remaining portion of the FMIC to the Hot Pipe Upgrade product has been removed to aid in streamlining product availability for everyone.
---
First, to increase airflow and help take some stress off the turbocharger, we have 2.25in diameter piping mandrel bent to shape. Our pipe size can flow enough air for over 400+ WHEEL horsepower so you can be sure our kit will be sufficient for your build. Made from 6061 Aluminum and powdercoated our signature wrinkle black, these pipes are durable and will look good for a very long time. We also supply factory mounting flanges for the OEM blow off valve, boost sensor, and valve solenoid bracket.
Our intercooler core is where we get serious. We have accumulated about 60 hours of heavy CAD (computer aided design) modeling and CFD (computational fluid dynamics) simulation. After using a 3D scan of the front of the car, we have achieved a fine balance between evenly distributed flow across the core and entry/exit endtanks. We believe it's this efficiency through the core that helps us keep similar throttle response to stock. Our end tanks utilize the casting process to achieve the computer model geometry for power optimization. It is nearly impossible to get our results with sheet metal fabricated end tanks.
This is a screenshot of an early CFD model result that we can manipulate to fine tune things including air speed, mass flow, and calculated temperature. This simulation comes from the CAD model that also helps us assemble parts and visualize their fit and finish. We also use these files to manufacture the different parts of the kit.
We use the very latest in engineering technology to bring a fit and finish like that of OEM. From 3D scanning to CAD models and installation diagrams, we capture every detail!